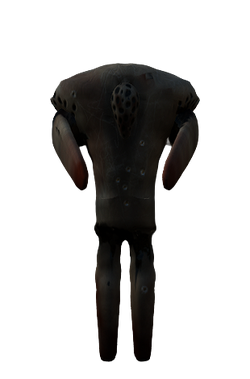 Anomalies are organisms, entities, objects, locations, etc. that all exhibit some abnormal phenomenon or ability that can not be explained with current scientific theory. These anomalies can range from being harmless, such as Mr. Fish, to being extremely dangerous, such as the Old Man.
Yellow Gearworks owns multiple Sites dedicated for the containment and research of these anomalies. Its most notable Site, Site-76, is home to many different types of anomalies ranging from Panacea to the Scarlet Lake. The main purpose of this Site is the research of these anomalies, of which it contains 31 different anomalies.
Threat Classifications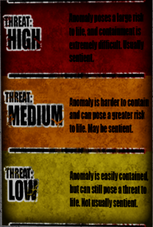 Yellow Gearworks organizes anomalies into three different tiers of threat. Those being low-threat, medium-threat, and high-threat.
Low-Threat
Low-threat Anomalies are the easiest anomalies to contain as they all have very little to no special containment procedures, but that does that mean they are without danger.
A good example of this would be Candy as it requires no advanced containment procedure, but can still cause immense harm to players. Another good example would be the Eye Pods as they are both very peaceful, and easy to contain and care for.
Medium-Threat
Medium-threat Anomalies are more difficult to keep contained then low-threat anomalies, but are not as hard nor as dangerous as high-threat anomalies.
A good example of this threat would be the Burning Man, as it is dangerous and does requires some advanced protection to keep it contained.
High-Threat
High-threat Anomalies are the hardest anomalies to contain as they require complex containment procedures, or they simply just can't be contained. These anomalies are usually sentient as well.
A good example of a high-threat anomaly would be the Shadow Child as it is very dangerous, and requires a very elaborate containment chamber that must always be kept up with. Another good example is the Suit Man, since although it is seemingly harmless, it is impossible to contain and very hard to research.
Anomaly Tips
Breaching, heisting, or becoming an anomaly all requires you to become a Prisoner or a Chaos Insurgent. Foundation can only use exclusive anomalies.
Anomalies may need a certain keycard level to unlock the cell, which is varied from Level 1 to Level 5. Some anomalies may have the same clearance as each other, some are different.
Some anomalies have a cooldown timer, which activates after the anomaly gets re-contained. During the cooldown, players are unable to breach it due to the cooldown still enabled. Each anomaly has a respective amount of cooldown time before it can be breached again.
Retrieving, playing, or breaching the anomaly requires you to head to their cell first.
Playing as an anomaly requires you to have a certain amount of money to spend. When playing as them, you will be granted extra features that will benefit you over time.
Breaching an anomaly as a bot will give you extra money and experience.
When unlocking the cell, the anomaly will spawn as an AI-Bot, or if you chose to be one, you will spawn as one.
Some anomalies can be stolen or used. When using an anomaly, you will automatically be granted extra abilities and mechanics until you die.
Some anomalies can be sold to the Marshall Carter Dark Agent, if you were quested to scavenge for one.
Once you completed the heist, you must sell the stolen anomalies to the one of the many Marshall Carter Dark Agents. Doing that will give you money, a respectable amount of cash, experience, and most importantly, a Bounty level. Foundation may often try to hunt and terminate the wanted player to receive Bounty reward
List of Anomalies
Anomalous Abilities
Playable Anomalies' Statistics
Gallery of Anomaly Infographics