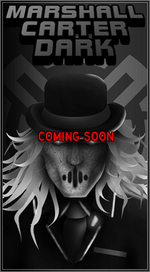 Marshall Carter Dark (MCD) is a mysterious, wealthy, and powerful organization that has infiltrated Site-76. The organization purchases and sells anomalous objects and they do so through Prisoners and the Chaos Insurgency.
Marshall Carter & Dark Agents are members of the organization that have been sent to Site-76 in order to purchase and sell anomalous items and weapon parts. These Agents come equipped with personal Teleporters that allow them to quickly traverse the facility. There are a total of 6 (?) Task Agents that give out contracts and purchase anomalies. There are another 3 (?) stationary Weapon Agents that sell heavy weapon parts.
It might be possible to play as a member of Marshall Carter Dark in a future update, as evidenced by the "COMING SOON" on the MC&D Team option on the Team Selection Menu. No further information is known.
Notes
Before version b.0.1.735, an MC&D Agent located in the bottom floor of the Prison Cells, used to sell Shards to play as Anomalies, for $1,000 each shard. This has since then been replaced directly with money.
One of the Site-76 Developers said that MCD team getting added probably won't be possible.
The MCD has their own ROBLOX toy, which can be gained with a mystery box in Series 9.
The MCD "Coming Soon" UI has been on the menu for 2 years. The team will probably never come and might be removed from the team menu, as the developers have announced that there will be no further big updates to the game, only bug fixes.
Gallery